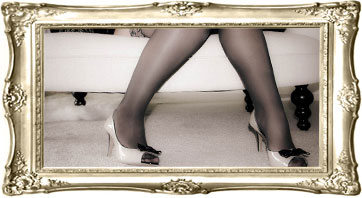 Goddess, may I ask you for a custom clip/mp3/video?
-Yes you can.
You may email me with whatever you have in mind and kindly ask me to make one for you. I will do only those that I'm really into, but don't be shy, send the request anyway, and I'll let you know if I wanna do it or not. Note: I don't do "scripts" for custom clips or videos, so don't expect it to be word for word. I may take a script for a custom mp3 is you have already written it out. You may, describe me in general what you are looking for. I always do it MY way anyway. That's the beauty of it.
Don't expect the clip to be done next day. You will be advised approximate date when I will have it. If you need it asap, then I'm gonna up the ante and you will pay. I will let you know the approximate price after I read your email and will let you know the exact price after I have the video done. It depends on time and complexity as well if I need to do any extra shopping for it, which, you will pay for as well.
To give you an idea, 5 minute "basic" video i.e. no shopping, no props, no editing, starts at $70, I really don't see putting much effort into anything for less than that. Hypno mp3s, recordings start at $100 per 10 minutes, hypnotic videos start at $150. If there's anything elaborate to do, you will be advised ahead. DO understand that if I'm charging per 5 minutes, doesn't mean that I'll get it done in 5 minutes, so don't give me a piss about being expensive, won't even listen. I put a whole lot of love and care into each and every one of my clips and they are top quality.
Something to keep in mind: if you want something unreal, you'll get an unreal price.